Inmate Visitation
You are now required to schedule your visits 24 hrs in advance.  Visitation goes by Eastern Standard time.
Visiting Schedule
General Population Visitation
| | |
| --- | --- |
| Morning Hours | 8:00 a.m. -12:00 p.m. |
| Afternoon Hours | 1:00 p.m. – 2:00 p.m. |
| Evening Hours | 5:30 p.m. – 9:00 p.m. |
There are no visitation between the hours of 12:00 p.m. – 1:00 p.m. and 2:00p.m. – 5:30 p.m.
Visitors are allowed 1 visit per day – multiple visitors allowed at 1 time

Receiving & Diagnostic Visitation
Unclassified inmates are not eligible for visits
Inmates will be eligible once classified and housed.

Segregated Inmates
Are allowed one 30 minute visit on Monday
Same hours as the General Population Inmates

Inmates with Lost Privileges
Are allowed a total of 1 hour visit on Tuesday
Same hours as the General Population Inmates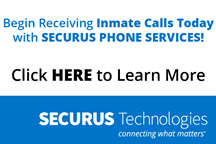 On Site Visitation
You can schedule your on site visits 2 ways:
1.) Online
2.) At the Facility
To schedule your visit online you must go to Securustech.net/VideoVisitation.  On the bottom of the page you will notice 3 icons in blue and white.  The middle icon will say Schedule an Onsite Visit.  Please click on the icon and follow the prompts.
To schedule your visit at the facility.  After entering the facility, take a right and find the 6th door down to your left.  Turn on the light before entering the room.  Have a seat and follow the  directions posted next to the touch screen.  If you have any questions you may ask the receptionist for help.  If it is after hours and there is no receptionist present you can pick up the phone at the reception's desk and speak to someone regarding your issue.
At-Home Video Visitation
We now provide at-home video visitation.  You are required to set up your visit a day in advance online according to approved visitation hours.  The video visitation system knows your loved one's availability and only allows you to schedule times when they are available.  Your loved one is notified of the scheduled visit in advance and will be able to check in at the time of the visit.  All visits are recorded and subject to monitoring and/or review.  Any behavior that is determined to be obscene or inappropriate may cause your visit to be ended and/or the possibility of your visiting privileges to be suspended.
Attorney visits follow the same directions above.  When prompted, select "Attorney".  Please provide your Bar ID, which will be reviewed and approved by the correctional facility.  Once approved, you can immediately begin scheduling private video visitation sessions.  These private sessions will not be recorded or monitored.